Brian
Honorary Farmgirl


520 Posts


Brian
Moscow ID
USA
520 Posts
Posted - Dec 08 2015 : 4:39:26 PM
---
Uploading a photo to the chat room is a relatively easy process. I'll try to flesh it out and include plenty of images to help ya'll get your images online. This may be a long post visually, but the process is pretty speedy.

So you want to add a photo to your post.

Whether you are creating a new topic or replying to a post, you are going to be looking for the same button. The red arrow is pointing to the "Upload Photo" button.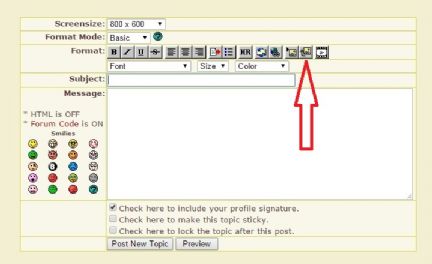 This button can also be found on the "Quick Reply" area here: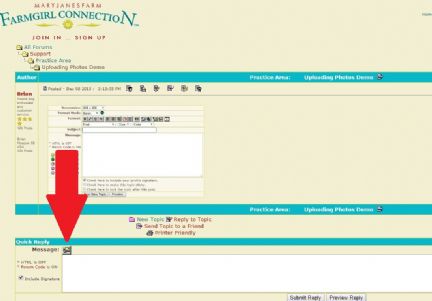 So, what happens when you click this button?

Internet magic happens and it is seriously special. Actually, you get a pop up window. I think we can all agree that it's pretty magical.
Here's what you get: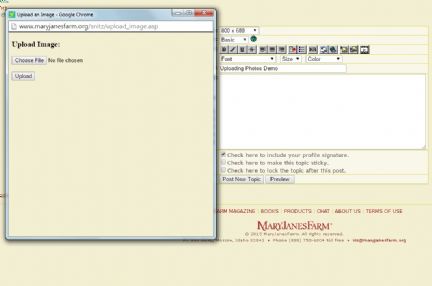 What you want to do first, is choose the file to upload. When you click on "choose file" you will be allowed to browse your device and select the picture to upload.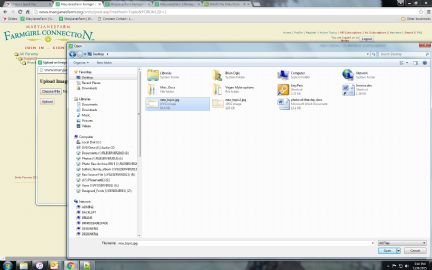 Next step, hit "upload." You'll see a preview of the image. If you need to flip your image around you can click on the bendy arrows so that the orientation is correct.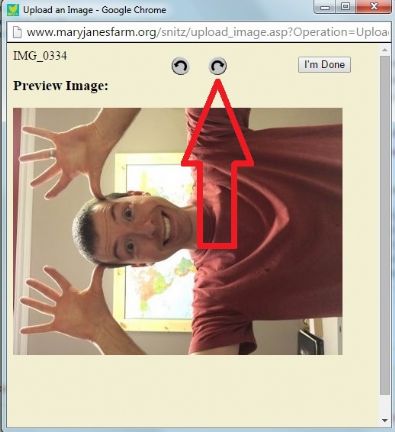 Once you have your image aligned properly click "I'm done."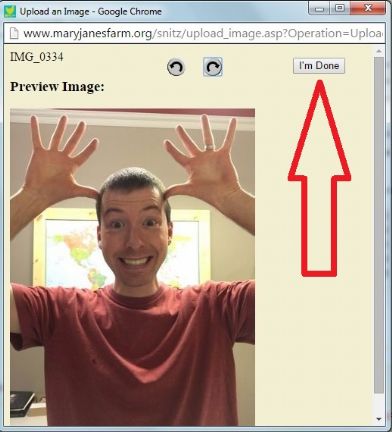 Now your image will appear as a text link with the [ IMG] brackets around the link. If you need to move your image you can cut/paste the entire image link.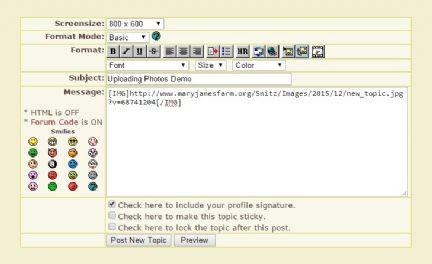 Please pay special attention to the file name of your photo. Special characters (& * / % ? ' " for example) can cause an error. While this error doesn't create a "butterfly effect" where a natural disaster strikes in another time zone, your picture won't display on the chat room.

That's how you can upload a picture to the chat room. You can also add a picture by attaching the image link from a different website. If you would like to learn how to do this, head to Gabe's ancient-but-relevant instructions here: www.maryjanesfarm.org/snitz/topic.asp?TOPIC_ID=6291

I hope you find these instructions helpful. If you are still having problems please fee free to email me (brianogle@maryjanesfarm.org) and I'll see if I can help you out.

Thanks!!!

~Brian