Pixiedustdevil
True Blue Farmgirl


68 Posts



Temperate Rainforest Oregon
USA
68 Posts
Posted - Apr 18 2016 : 3:34:21 PM
---
Sorry if this post is in the wrong place, I really could find a better place for it.

Do you have a painting? A picture? Or some piece of art in your home?
That one thing that you loved enough, that you chose to put on display, for your own enjoyment?
Ask yourself this; when was the last time you stopped, truly stopped and admired it?

Here is your challenge; sit in front of that work of art and just scan it with your eyes. Remind yourself why you love it. Who knows, you might even see details you never noticed before!
Post a picture of it and tell us about it.
-------------
Here's an example: My family has had this painting, long before I was born. It hung over our dinner table. As a young child; I found this picture to be funny, because while we were eating dinner, we were being mooned by a chicken! As a child, I referred to this painting as the 'Chicken Butt' painting. What can I say? I was a weird child!

We moved into a larger house eventually, and had multiple painting, but this one was always my favorite. After the last of my family passed away, I inherited it and hung it on my wall. After about 5 years, I started to notice it again and realized that I needed to take time enjoy it again.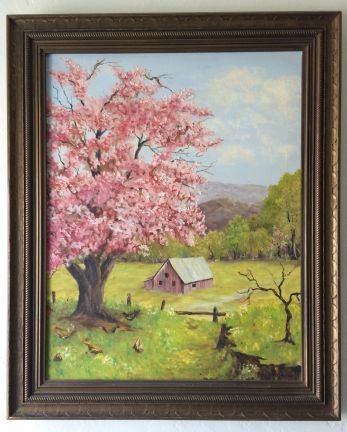 ----------------------
Sisterhood #6941

Jack of all trades, master of none,
though oftentimes better than master of one.
Red Tractor Girl
True Blue Farmgirl


6189 Posts


Winnie
Gainesville Fl
USA
6189 Posts
Posted - Apr 19 2016 : 06:07:46 AM
---
Pixiedustdevil, this is a very cool idea. Your family painting story is an interesting one and it brings up the thought of what family belongings from our past are still near and dear to our hearts. I am going to think about this and find that piece in my home and post it here to share. Thank-you!!

Winnie #3109
Red Tractor Girl
Farm Sister of the Year 2014-2015