bellrbi
Farmgirl in Training


42 Posts

Dara
Collegeville PA
USA
42 Posts
Posted - Jun 15 2022 : 09:07:07 AM
---
lot of three vintage aprons. There are a few spots on the vegetable one and the strawberry one. The cross stitch gingham one is in excellent condition. $15 plus shipping. [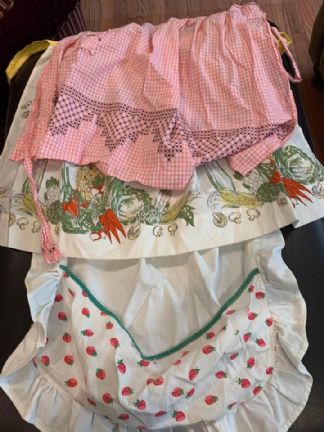 DGB
---
Edited by - bellrbi on Jun 20 2022 12:22:44 PM
quiltee
True Blue Farmgirl


7282 Posts


Linda
Terrell TX
USA
7282 Posts
Posted - Jun 15 2022 : 09:26:50 AM
---
Very nice aprons, but I have too many vintage ones already. Lol!

Farmgirl hugs,
Linda
Terrell, TX

Farm girl #1919
Farm Girl of the Month August 2015 and April 2017


"Women are Angels, and when someone breaks our wings, we simply continue to fly . . . on a broomstick - we're flexible, like that."